NEW Sunday Curling on TSN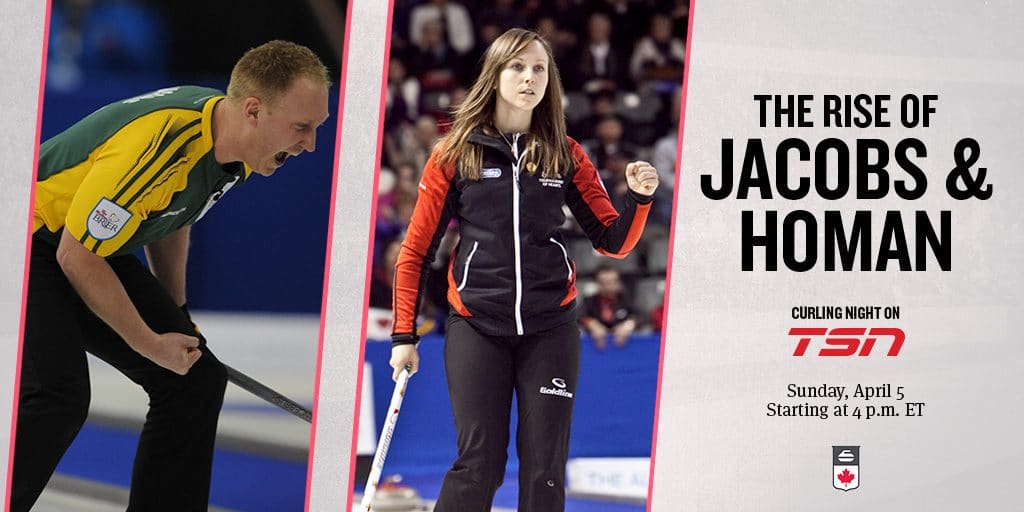 The curling season may be cancelled, but that doesn't mean you can't get your granite fix on TSN.
Starting Sunday April 5, TSN will broadcast three classic games from 2013 that made Rachel Homan and Brad Jacobs household names in curling.
In addition to watching these games, you can get insights from some of the participants on Twitter! Rachel Homan will be live-tweeting from her account, @RHoman89, and you can check out @TeamBradJacobs for comments during the Tim Hortons Brier games.
The lineup for future editions of Curling Night on TSN will be posted every Thursday on curling.ca! And if you have suggestions for themes for future editions of Curling Night on TSN, send them to television@curling.ca.
'Hurry hard' and stay well!
---
Club address change
As of April 1, 2020, the Rose City Curling Club's civic address has been changed by the City of Camrose to maintain a consistent addressing system for providing essential services such as Police, Fire and Ambulance.
Our new address is:
Suite 5, 4412 – 56 Street
Camrose, Alberta   T4V 2C3
Please note this change when mailing any correspondence to us. Our email and phone contact information remains the same.
---
Curling Season Ends
To our Members and Users of the Rose City Curling Club:
Please be advised that due to the outbreak of COVID-19, the City of Camrose has made the decision to close the Recreation Centre starting the morning of March 15th and until further notice. This means the curling season is over at the Rose City Curling Club. We would like to thank everyone for participating this year and we hope to see you back in the fall.
Just a reminder: The City of Camrose will be painting the main floor interior including the locker room during the off season, therefore we ask all curlers to remove the locks and contents from your locker as soon as possible. Access to the curling club will only be allowed through the north door and only for the hours of 11:00 am to 1:00 pm Monday to Friday this week so please stop by to pick up your belongings. If you are not able to pick up your stuff this week, please call the club to talk to Sarah about this. Any locks or contents remaining after April 1st will be removed and placed in the lost and found for next season. We ask that you not stay longer than absolutely necessary when you come for your belongings.
The Spring General Meeting for March 23rd is being postponed until a later date. Watch your email and the website in the coming months for more information.
As you know, the COVID-19 situation is changing every day so everyone please stay well and follow this link for the most up-to-date information – https://www.alberta.ca/coronavirus-info-for-albertans.aspx
Thank you.
Rose City Curling Club Board of Directors and General Manager
Please Note: The 50/50 for the week ending March 12th has been claimed and the $202 was won by Cathy Andreassen.
---
Mixed Bonspiel Winners
Congratulations to the following Event Winners at the Mixed Bonspiel, March 6 and 7:

'A' EVENT
TEAM DIDUCK
L to R: Dave Diduck (Lead), Adam Belanger (Second), Joanne Martz (Third), Jason Diduck (Skip)
(more…)
---
CANCELLED CurlJam March 20
---